Farsoon launches FS350M-4 metal 3D printer at TCT Asia 2023
Source: DateTime:2023.10.18 Hits: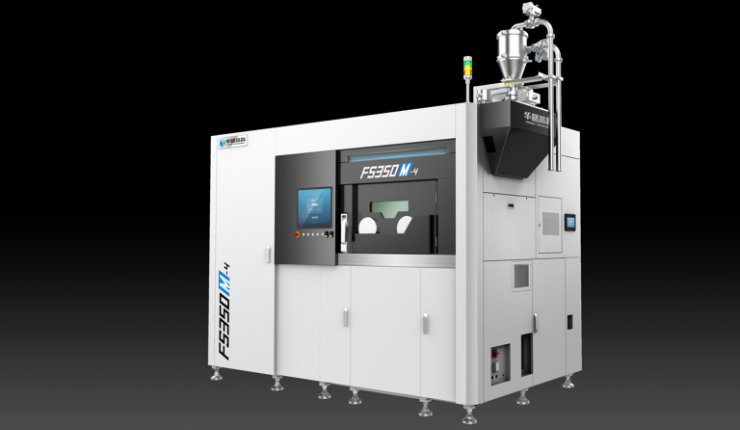 Farsoon Technologies has announced its new FS350M-4 metal 3D printer on the second day of TCT Asia 2023 in Shanghai, China. As a new addition to Farsoon's medium sized metal 3D printing system portfolio, the FS350M-4 is equipped with a build envelope of 433 x 358 x 400 mm and comes standard with quad 500-watt laser configuration.

According to the company, the FS350M-4 is ideal for medium to high volume series production of metal parts from a range of industries such as moulds, tooling, automotive and aerospace. The current material capability of powder materials includes aluminium, titanium, maraging steels, and specialised grades of stainless steels.

Farsoon says that thanks to the latest process parameters development including variable layer-thickness, adaptive scanning strategies for infill and detail, the FS350M-4 is able to achieve improved productivity as well as 'excellent' part quality.

For example, with a shoe mould application, the FS350M-4 platform is capable of producing over 95% of all shoe sizes of one pair of shoe moulds in a single build according to the company. With 60% higher build volume rates compared to other metal laser powder bed fusion systems in its class says Farsoon.
In large-scale 3D printing production operators, the inert gas consumption is a large portion of the cost. The FS350M-4 features a 'highly efficient' inert gas system according to Farsoon. The company says the purge process takes 11 minutes. During the printing process, the inert gas consumption requires 3-5L/min.

The new system is equipped with an integrated, advanced 3-stage filter module, featuring a 'powerful' back-flush function to ensure longer filter life, helping to reduce the cost of filter changes according to the company. Farsoon says it aims to have a permanent filter solution available in the future, enhancing machine uptime and ease of operations.

The FS350M-4 features a machine footprint of six square metres with an integrated filtration system. In an additive factory setting, the system enables high density layout to achieve 'maximum throughput' per floor area, allowing for more efficient additive production layout according to Farsoon.

Farsoon says that the new system also includes a high-efficiency top-feed powder system. Once the power level in the container runs low, the equipped sensor will release a message for refill. Farsoon says the powder refill unit can be easily docked, enabling quick refill of the material without disturbing the build process.

On the first day of TCT Asia 2023, Farsoon introduced the FS1211M and FS811M-U to the wider China market. The company also announced the launch of the 16-Laser FS1521M series of 'extra-large' metal 3D printers.