AddUp adds Aheadd CP1 Aluminium Alloy to its 3D printing materials portfolio
Source: DateTime:2023.08.28 Hits: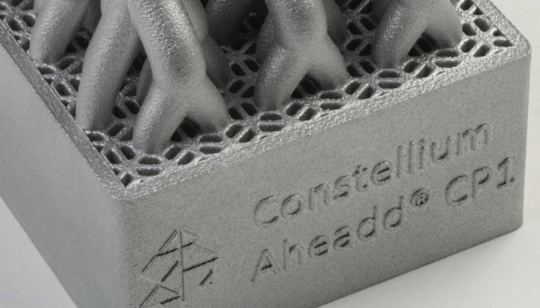 AddUp has announced that Constellium's Aheadd CP1 Aluminium Alloy has been qualified for use on FormUp 350 machines. The alloy is specially developed for the needs of 3D printing and is an alternative to traditional grades such as AS7 or AS10, with higher productivity and better performance for heat dissipation applications according to AddUp.
The company says that the current 3D printing market is dominated by AS7 and AS10 grades, which are alloys of aluminium, silicon and magnesium, originally created for the foundry industry. Constellium offers an aluminium-iron-zirconium alloy, which it says has higher solderability, making it possible to increase laser power and scan speed to improve productivity.
"To obtain the best mechanical properties using AS7 and AS10 grades, several long and expensive post-build treatments must be carried out, such as hot isostatic pressing and, solution and aging etc," said Frédéric Sar, Materials Officer at AddUp. "With Aheadd CP1, very similar material properties can be achieved with a simple heat treatment at 400°C."
AddUp says that the mechanical properties of parts made by the company from Aheadd CP1 (particle size 20-63 µm) are close to those of AS7 in terms of hardness, at least equivalent in fatigue resistance and higher in ductility. The parts are also compatible with anodising treatments to improve corrosion resistance.
Higher thermal conductivity of Aheadd CP1 compared to traditional aluminium alloy makes Constellium's alloy a better candidate for all heat exchanger applications according to AddUp. The alloy is stable up to 250°C without degrading its microstructure, which the company says paves the way for lightweight applications for the aerospace industry.
AddUp says Aheadd CP1's characteristics make it a potential alternative to AS7 and AS10 alloys for 3D printing. The material was also recently approved in the field of motorsports. Combining the material with the AddUp FormUp 350 machine increase productivity without compromising part quality according to the company.