Nexa3D partners with polySpectra to offer COR materials to its customers
Source: DateTime:2023.06.05 Hits: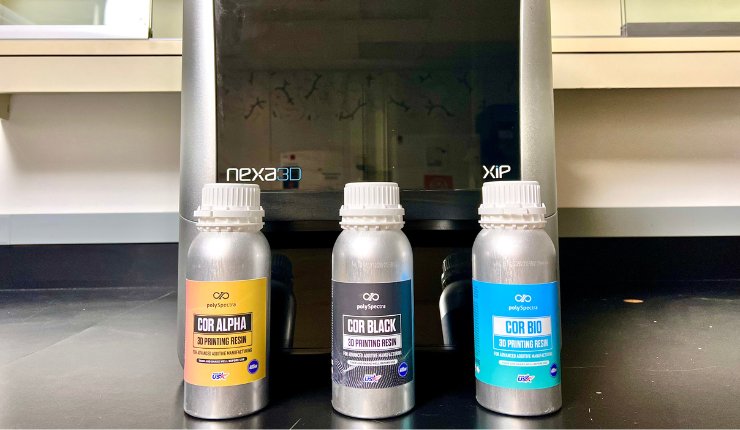 polySpectra has announced a partnership with Nexa3D to bring its COR (Cyclic Olefin Resin) materials to Nexa3D printers. The partnership will give Nexa3D users another option for 3D printing end-use parts with properties such as durability, high-impact strength, high-temperature performance, dielectric properties, and moisture and chemical resistance according to polySpectra.

"We are excited to partner with polySpectra to bring their rugged COR materials to our customers," said Kevin McAlea, PhD, COO Nexa3D. This partnership will expand our customers' ability to print parts with high-performance properties, suitable for both prototyping and end-use production."

COR materials from polySpectra are a group of engineering-grade photopolymer resins for 3D printing. The resins are designed to be used in applications such as tooling, moulding, end-use consumer and medical products, satellite parts, and electronics connectors. The resins are available in a range of colours and properties through the COR Alpha, COR Black, and COR Bio products.

Raymond Weitekamp, PhD, Founder and CEO of polySpectra said: "We are thrilled to partner with Nexa3D to bring our COR materials to their 3D printers. This partnership broadens the options for rugged end-use 3D printing resins in the Nexa3D portfolio while enabling applications that were not viable with incumbent resins."

The new partnership brings COR materials to all Nexa3D printers, beginning with the desktop XiP system. The COR materials will soon be available in specialised Nexa3D resin cartridges for drop-in compatibility with the systems according to the companies.

Nexa3D recently expanded its range of eco-friendly 3D printing materials with the addition of Jabil PK 5000, which was announced at RAPID + TCT 2023, where it also launched the new XiP Pro, and announced a partnership with Wilson Sporting Goods.