Stratasys launches new FDA-cleared resin for dental 3D printing
Source: DateTime:2023.03.13 Hits: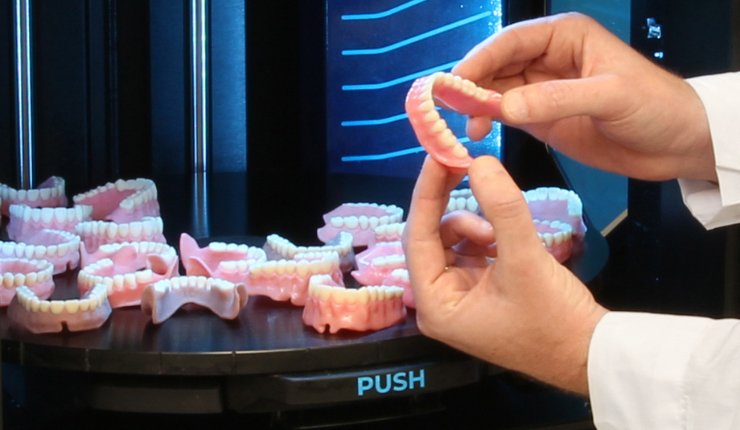 Stratasys has announced TrueDent, a monolithic, full-colour 3D printed permanent dentures solution, which it claims is the first of its kind.

The TrueDent resin enables labs to create permanent, natural looking gums with accurate tooth structure, shade, and translucency according to the 3D printing company.

TrueDent is an FDA-cleared (Class II) dental resin made specifically for the fabrication of dental appliances, including removable dentures. The resin was developed to be printed exclusively with the Stratasys J5 DentaJet 3D printer and GrabCAD Print software platform. The solution will allow dental labs to scale manufacturing by simplifying workflow and reducing processing time for dentures, while achieving a personalised, 'highly aesthetic' dental appliance.

According to Stratasys, TrueDent is designed to eliminate several barriers for patients and laboratories, including potential to reduce chair time for office visits, measurements, fittings and adjustments, high fidelity match between scan, design and fit. As well as providing 'consistent production' of accurate, well-fitting dentures, and increasing efficiency through streamlined workflow with less time between scan and delivery.

"Until now, printed dentures and appliances had to be designed and manufactured in multiple parts and bonded together," said Frank Acosta, Owner of AA Dental Design. "The TrueDent solution, utilising Stratasys' systems and software takes a lot of that stress out. It simplifies the process, lowers the costs, and allows for dentures and temporaries to be produced much faster, achieving incredible aesthetics. We can now expand our prosthetic service printing multi-coloured personalised appliance at scale."

In a press release from Stratasys, the company said that research from iData in 2021 revealed more than 4.2 million full dentures were created in the United States, and 18 million full dentures were sold worldwide, but only five percent were estimated to have been created through a 3D printed solution.

Ronen Lebi, Vice President of Dental at Stratasys said: "This new solution will be transformative for the dental industry, and we believe it will help our customers significantly reduce the time and cost of producing dentures and temporaries. Stratasys continues to push the boundaries of digital dentistry leveraging our portfolio of advanced 3D printing technologies, including hardware, resins and software to deliver disruptive solutions that make a difference."

TrueDent resin is patent pending and is currently only available in the U.S., and only compatible with the Stratasys J5 DentaJet printer. The material will be unveiled at LMT Lab Day Chicago, February 23-25 2023.

In December 2022, Stratasys announced a new automated 3D printing colour workflow using 3Shape's Dental System software and the Stratasys J5 DentaJet 3D printer.