Evonik partners with ProductionToGo to distribute its INFINAM photopolymers and filaments for indust
Source: DateTime:2023.05.26 Hits: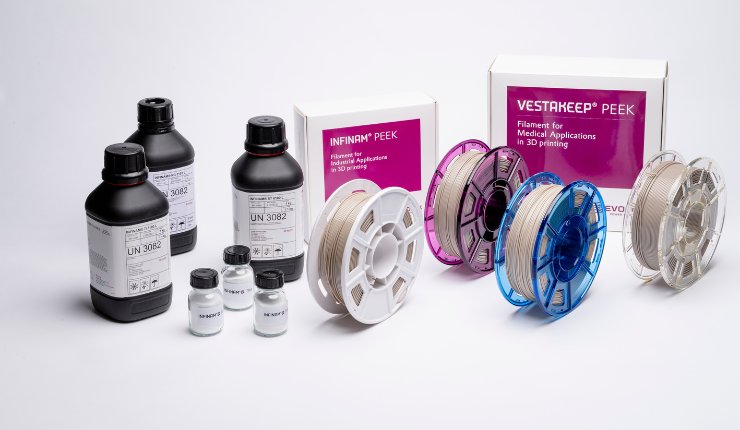 Evonik has announced a new non-exclusive distribution partnership with ProductionToGo for the group's 3D printing materials. The deal, effective June 1, will see ProductionToGo handle distribution of Evonik's photopolymers and PEEK-based filaments of the INFINAM brand in the EU, Switzerland, Norway, and the United Kingdom.

Vitor Lavini, Head of the Photopolymers Market Segment at Evonik said: "We are very pleased to collaborate with ProductionToGo as a reliable partner who provides intact and flexible supply chains, and offers a strong customer service focus for our high-performance 3D printing materials. The new partnership is intended to increase the availability of our products for additive manufacturing and thus, 'unbounding 3D printing at scale' by opening up new infinite 3D applications."

Evonik first entered into photopolymers 3D printing technology in 2021 with the introduction of the first INFINAM ready-to-use resins for stereolithography, liquid crystal display or digital light processing 3D printing. Since then, the company has developed and launched seven specialised material formulations.

ProductionToGo CEO Maximilian Neck added: "Adding the fundamental knowledge and capabilities of Evonik's INFINAM materials to our value proposition lets us provide even more highly optimised 3D printing processes for our customers. This will lead to an improvement in both the quality of the parts produced, and the profitability and the sustainability of our customer's processes."

Evonik's range of 3D printing materials includes INFINAM nylon powders and elastomers, PEEK filaments and specialised photopolymers used in industrial applications. The company also provides 3D printable VESTAKEEP and RESOMER biomaterials for medical technology, which can be used to manufacture medical device parts designed for temporary and permanent body contact.