ADDiTEC introduces Performance AMRC-P forward-deployable 3D printing portable robot cell at RAPID +
Source: DateTime:2023.05.15 Hits: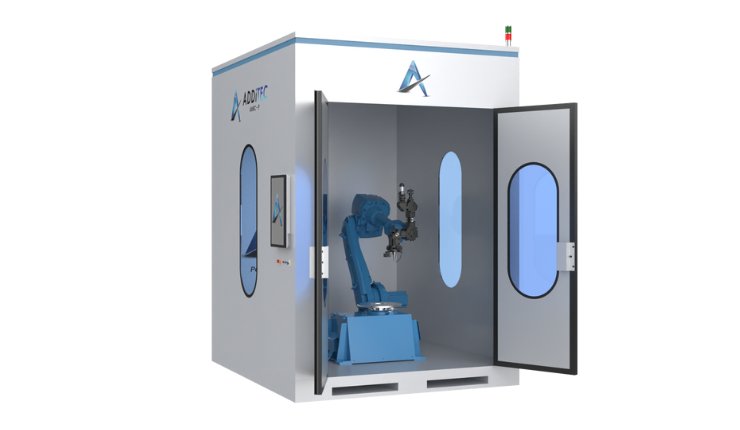 ADDiTEC announced the launch of its newest portable robotic system, the Performance AMRC – P (Additive Manufacturing Robot Cell – Portable) at RAPID + TCT at the beginning of May 2023, at RAPID + TCT in Chicago.

The Performance AMRC – P has production-ready capabilities that allows for parts to be printed on demand from anywhere according to ADDiTEC. The company says the system also supports 3D printing of reactive materials such as titanium.

"We are delighted to bring this high specification product to market. It is the culmination of more than seven years laser DED experience and provides a state-of-the-art capability enabling large applications and material possibilities not seen before. We are excited to see the many first-of-a-kind applications this product will unlock," said Brian Matthews, CEO of ADDiTEC.

The Performance AMRC – P includes a 6kW fibre laser configured deposition head and closed loop process controls, which the company says afford deposition rates of up to 4 kg/hr for titanium. ADDiTEC says the system can print large parts up to 1.8 metres in dimension and can achieve intricate geometries with its multi-axis robotic architecture.

ADDiTEC has partnered with industrial robot brands, which it says allows for integration for large scale robotic 3D printing. The materials that can be printed with the system include aluminium, copper, carbon steel, mild steel, stainless steel, Inconel and titanium.

In 2022, ADDiTEC partnered with Amorphology to develop 3D printed robotic arm gear components. The companies developed a six-inch diameter strain wave gear flexspine from 17-4 PH steel, 3D printed using DED before being precision-machined into its final shape.