TCT Asia is Now Accepting Presentation Proposals for the TCT Asia Summit and TECH STAGE.
Source:Exhibition Information DateTime:2020.10.21 Hits: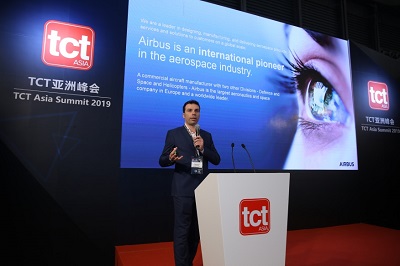 Last year, the TCT Asia Summit brought together some of the most influential industry leading end users to share their expertise on the latest in design-to-manufacturing 3D innovation and application. Industrial users and cutting-edge consumers gathered around expert analysts, researchers and executives from the likes of APWORKS, FAW-VW Motor, Xi Jing Hospital, Cosats Satellite Technology to gain a deeper understanding of the role of 3D technologies in the design-to-manufacturing process chain.
In 2021, we plan to set up 4 sessions on TCT Asia Summit including:
1) Medical Applications Day;
2) Aerospace/Defence Day;
3) Evaluating AM Technology Day;
4) Auto & Industry Day

TCT Asia Summit audience often comes from the application of industry peers, suppliers, investors, government departments and some of the media. You can share the current application status in the Summit, analyze the advantages and disadvantages of AM during the application process, and more importantly, you can also raise the current confusion and bottlenecks and other appeals discussing with the audience. By face-to-face interaction with peers in the industry, you may be able to seek more perfect solutions, explore more possibilities for cooperation, and seek ways to expand the current production scale in a more perfect industrial chain, obtaining more long-term benefits.
Besides, we will also plan to hold TECH STAGE on the 2nd day (27th May) of TCT Asia 2021. We plan to invite the professionals and experts from universities, research institutes, government agencies, industry media and critics to publish the latest research results, analyze industry situation and predict future trends.

The audience of TECH STAGE often comes from professors in University, researchers from institutes, representatives of start-ups. If you have relevant topics, we welcome you to step onto the platform of TECH STAGE to share your latest research results. We will build a platform for the integration of industry, university and research so as to help you achieve enterprise-university cooperation, obtain financial support and even appeal to the government to tilt the policy, so as to help you move from front-end research to production as soon as possible!

The conference team is now accepting abstracts on the following but not limited to the topics:
•3D technologies in the medical and dental industry
•Aerospace applications of 3D technologies
•Application of 3D technologies in new product development
•Business / Marketing analysis for AM
•Design for AM
•Material research for AM
•Design-to-manufacturing innovation in automotive applications
•New materials and processes
•New AM & 3D printing research and academia
•Software for product development and manufacture
•Solutions for AM in series production
•Standardisation and regulations
•Sustainability and environment
Prospective speakers are also welcome to submit your information by filling the Application Form.


The online application deadline will be 26th March, 2021.
We will contact with you confirming your presentation title as well as abstract after passing our first round selection. We will also need you to submit your biography and a high-resolution headshot photograph as long as we confirm your presentation opportunity.
If you have any questions please feel free to email us to: casper.jiang@vnuexhibitions.com.cn